Snake game played on mobile is included in very old games. This is the reason why people like to play these games even today. That's why you get to play many good games based on snake game on Play Store, which people are very fond of. In this article, we are telling you about such best snake games which are going to be very entertaining for you.
Top Snake Game Mobile App | Online Snake Game App
The snake games we are telling you about are for the Android platform. But some of these games are also available on the iOS platform. So let's know about these top snake games.
1. Snake.io – Fun Snake .io Games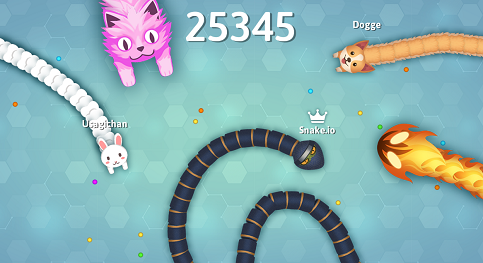 Snake.io is designed for a smooth, fast performance, with controls designed for every mobile device. Snake has never been this fun or competitive before! Play without wifi for free or newest online mode with live events.
Classic arcade games meet online leaderboard competition in this new, addicting free game! Join millions of players and play Snake.io now.
Best Snake.io Features:
Slither through a field of food and eat to make your snake grow
A fun io game version of Snake
Challenge your friends to beat your high score
Watch Snake Games from our fans and join the online community
Play games with fast performance on any device
Snake.io is free, or you can remove ads
2. Worms Zone .io – Hungry Snake
Worms Zone is also a PVP action game! Watch out for other players and try not to bump into them, otherwise you'll have to start from scratch. However, if you manage to sneak and encircle them, you'll get more points and all the food they had. It is so yummy.
There are several tactics for becoming a champion: fighter, trickster or builder. Which one will you be?
Worms Zone also has unique graphics. We keep it minimalistic and simple and you'll love it.
3. Little Big Snake
Snake your way through the competition to complete missions, upgrade your skills and destroy other players. Devour nectar and energy left by opponents to increase your size, skills, and abilities. Smash your way up the food chain as you evolve into the ultimate Little Big Snake.
Challenge other players daily to become the biggest snake in the pit. Destroy your enemies by snaking around them and having them smash into you. Eat the yummy nectar left in their wake and collect keys, artifacts and other items to unlock levels, missions and allies. Little Big Snake is the ultimate snake-style game on mobile.
4. Snake Rivals – Fun Snake Game
Swipe your screen to move your snake – that's how easy it is to play Snake Rivals, the award-winning mobile snake game. Slither into addicting Classic arcade mode and eat as many apples as you can in stunning 3D worlds. Become the biggest snake and don't let other snakes hit you.
More than other io games, Snake Rivals is full of surprises: be the last one slithering in Battle Royale or go for Gold in Gold Rush.
Want to play with your friends? Start your own game or join your friends. It doesn't matter if they're in the same room or on the other side of the world.
Note: A network connection is required to play and slither freely. Snake Rivals is a snake io game free to download and play.
5. Snake Lite-Snake .io Game
Snake Lite is a classic fun and dynamic action PVP hungry slithering game. Relax, the rules are simple. Controlling your worms to eat more delicious food becomes longer, win the worm.io battle and become the biggest worm & snake of them all.
Like the oldest classic snake game, Snake Zone.io retains the core gameplay mechanism. Unique graphics keep minimalistic and simple.
Snake Lite-Snake game features:
Hit other worms by sneaking and encircling them into your worm's body cleverly.
Online & offline snake game with better performance on your device.
Battle with other snakes and the boss snake
Play anytime, anywhere. It's fun with light size game
6. Snake vs Worms: Fun .io Zone
Slither through a new casual version of Snake game io and survive as long as you can in the dynamic awesome arcade worm game. Controlling your worms to eat more delicious food becomes longer, win the worm io battle and become the biggest worm of them all.
Play snake like fun games and join the battle of brave worms in biggest addictive space! The crawling online snake battle game is part of io games family. Collect unique skins for snakes.
Slither to the first place in the leaderboard in this popular mobile game of the best casual games! Snake games io combines new trendy art with the oldest classic snake games mechanics.
Worms game is designed for a smooth, fast performance, with touch controls designed for every zone io and works great on any mobile device.
7. Snake Fun: io Snake Games Zone
Enjoy new casual game redaction of the snake game. Move your worm around arena space, eat food glowing yummies, defeat and consume other players to go up the longest slither.
Challenge your friends or other io players and try to be the biggest slink in Snakes World! Battle royale worms in an enormous arena, if your snake head collides into a part of another snake, player loses the life and must start over.
Raise your voracious multiplayer snake to be the biggest worm, eat cash dollars and earn yourself champion's title. Start play Snake Fun .io games as a small slink worm and try to get bigger by eating drinks and crisps.
Enjoy a twist on an old classic snake fun.
8. Snake Game : Slither
From the deepest part of the forest, you can play Snake Games : Green Anaconda with the objects and people you attack.
snake to show her strength and search for her next prey in the duel. You will come across many things and people who are preparing to meet you in the city and jungle. You are! Yes, now you can control this Snake Game simulator to shoot down your target without hesitation.
You can play the ruthless Snake Game snake in this 3D game and hunt and shoot down creatures to satisfy your appetite. You live in the jungle like an Snake Game, and in this Snake Game, you have to live in this city.
Play snake game with the wild Snake Games that lives in the thickest part of the jungle and hunts both animals and people while trying to use a variety of talents.
9. Snake Mania
"Snake Mania" is a casual IO game. You can control your snake to swallow the stars, kill other opponents through strategy, and eventually become the longest snake on the field.
How to play:
Eat little stars and grow your length
Avoid to touch other snakes' body
Try to let other snakes run into YOU, kill them and eat their remains
10. Snake Evolution – Fun io Game
Slither around in this evolutionary Snake like game and survive as long as you can! Kill others, collect traits, craft & evolve them into new part you can wear, unlock special skins recipes and complete missions. All of this in one IO game, Snake Evolution.
If your head touches another player, your Snake will die and then it's game over. But if others runs into you, then their snake will die, and you can eat their remains.
The remains constructs from orbs which will give you extra length and score and a possible chance for a traits which can be used later on to craft a new wearables to change your appearance.
(Visited 80 times, 1 visits today)