Are you tired of scrolling through a plethora of apps, each with their own price tag, just to edit your photos? Well, fear not! We've got your back with the ultimate list of 15 free photo editing apps to elevate your photography game without emptying your wallet. Whether you're a budding Instagram influencer or simply a casual shutterbug, these apps will transform your ordinary snapshots into stunning works of art. Let's dive right in and discover the magic of these fantastic tools!
The Must-Have Photo Editing Apps
1. Snapseed
Snapseed, the hidden treasure in Google's vault, is a photo editing powerhouse! This versatile app offers a wide array of features, from basic adjustments to advanced tools for enthusiasts.
Highlights:

A user-friendly interface for quick and easy edits
An impressive array of filters and effects
Precise controls for cropping, rotating, and fine-tuning your photos
Non-destructive editing – your original photo is safe!
2. Adobe Lightroom
If you're serious about photo editing, Adobe Lightroom is the go-to app. It's a classic, and for a good reason!
Highlights:

Professional-grade photo editing tools
Creative presets for quick enhancements
Seamless syncing across devices with a free Adobe ID
A user-friendly interface for beginners and experts
3. VSCO
Are you obsessed with creating the perfect aesthetic for your Instagram feed? Look no further than VSCO!
Highlights:

A vast library of filters inspired by film photography
In-app community for sharing your edited masterpieces
Essential editing tools and easy-to-use interface
Customizable filter strength to suit your style
The All-in-One Editing Apps
4. Canva
While Canva is widely known for its graphic design capabilities, it's also a superb photo editor!
Highlights:

Ready-made templates for social media posts
Intuitive design tools for adding text, stickers, and more
Ideal for creating eye-catching collages and photo compositions
A simple drag-and-drop interface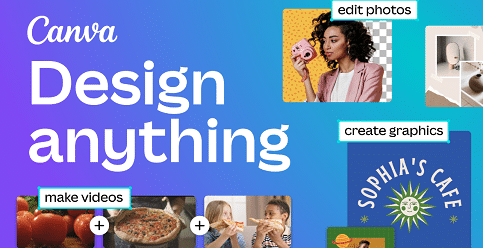 5. PicsArt
PicsArt is the ultimate app for those who crave creativity along with their photo edits.
Highlights:

A social network for artists and photographers
A mind-boggling array of filters, stickers, and effects
Drawing tools for adding your personal touch
Remix and share others' photos for inspiration
6. Fotor
Fotor is an all-in-one platform that combines photo editing, collage making, and graphic design.
Highlights:

A photo retouching suite for flawless skin and makeup
Artistic filters and effects to transform your images
A user-friendly interface that suits beginners and pros
A wide range of design templates for banners, social media posts, and more
The On-The-Go Editors
7. Pixlr
For quick edits on the go, Pixlr is your reliable sidekick.
Highlights:

A user-friendly mobile app for quick and easy edits
A wide variety of filters, overlays, and borders
A one-tap auto-enhance feature for instant improvements
No need to register or log in to start editing
8. Aviary
Aviary is a fast, fun, and feathery app that'll help you add some flair to your photos.
Highlights:

An intuitive touch interface for quick edits
A range of filters, stickers, and frames
Tools for blemish and red-eye removal
Meme-making capabilities for the witty ones out there
The Specialized Editors
9. Adobe Photoshop Express
Adobe Photoshop Express is a streamlined version of the desktop giant, offering the most essential tools for mobile editing.
Highlights:

Easy-to-use cropping, straightening, rotating, and flipping
A wide selection of filters and effects
Blemish removal and noise reduction
Integration with other Adobe apps for a seamless workflow
10. TouchRetouch
Remove pesky photobombers, stray hairs, and unwanted objects from your photos with TouchRetouch.
Highlights:

Powerful object removal tools
A lasso tool for precise selection
Quick and efficient editing – goodbye, distractions!
A user-friendly interface for beginners
11. Prisma
Turn your photos into stunning artworks with Prisma's artistic filters inspired by famous artists.
Highlights:

Over 300 artistic filters
Artwork sharing within the Prisma community
Photo-to-painting effects that dazzle
Easy-to-use, creative, and unique
The Niche Editors
12. Afterlight
Afterlight is the app for those who appreciate a minimalist approach to photo editing.
Highlights:

Subtle and elegant filters
Essential editing tools for adjustments
A variety of textures and frames for personalization
No clutter, just clean and simple edits
13. AirBrush
We all love a good selfie, right? AirBrush focuses on perfecting those self-portraits.
Highlights:

Blemish and pimple remover for flawless skin
Teeth whitening and eye-brightening tools
Filters designed for selfies
Real-time editing for live previews
The App for Fun Lovers
14. Photo Lab
Photo Lab is your one-way ticket to fun, quirky, and creative edits that will make your friends say, "How did you do that?"
Highlights:

Over 900 unique and fun effects
Realistic photo montages
Easy-to-use interface for quick fun
Regularly updated with new effects to keep the fun going
15. FaceTune2
FaceTune2 is all about mastering the art of the selfie. Look your best in every photo!
Highlights:

Retouching tools for flawless skin and makeup
Teeth whitening and eye-brightening tools
Live editing for perfect selfies
In-app tutorials for the selfie-obsessed
FAQs
Q1. Are these apps really free, or is there a catch?
Absolutely free! All the apps listed here offer basic features without any cost. However, they may have premium versions with additional perks, which are optional.
Q2. Do these apps work on both Android and iOS devices?
Yes, the majority of these apps are available for both Android and iOS, making them versatile choices for most smartphone users.
Q3. Do I need to be a pro to use these apps?
Not at all! These apps cater to everyone, from beginners to experts. They offer user-friendly interfaces and plenty of tutorials to help you get started.
Q4. Can I trust these apps with my photos' privacy?
Yes, most of these apps have strong privacy policies and don't misuse your photos. However, it's always a good idea to review the app's privacy settings and make an informed choice.
Q5. Are these apps regularly updated?
Yes, many of these apps receive regular updates with new features, bug fixes, and additional filters. Keep them updated for the best experience.
Conclusion
There you have it – the top 15 free photo editing apps that will help you transform your ordinary photos into extraordinary works of art! Whether you're a casual photographer or a social media influencer, these apps offer a wide range of features to cater to your creative needs.
Remember, the best photo editing app is the one that fits your style and workflow. So go ahead, download a few, and give them a spin. You'll be amazed at the incredible edits you can achieve without spending a dime.
Say goodbye to mundane photos and hello to stunning, eye-catching visuals with these amazing free photo editing apps. Your Instagram followers won't know what hit them! Get ready to impress your friends, family, and followers with your newfound photo editing skills. So, what are you waiting for? Start your photo editing journey today with these fantastic apps and watch your images transform before your eyes!
(Visited 17 times, 1 visits today)