Looking for the perfect movie night? Discover the top 12 websites to watch free movies online! Dive into a world of cinematic delight without breaking the bank. Explore the best in streaming entertainment now!
Are you tired of paying exorbitant fees for movie subscriptions? Ready to unlock the treasure chest of cinematic delights without burning a hole in your pocket? Well, you're in for a treat! In this digital age, where everything is just a few clicks away, we've scoured the web to bring you the Best 12 websites to watch free movies online. No more lengthy downloads, no more subscription fees – just pure movie magic at your fingertips. Buckle up as we embark on a journey through the virtual realm of cinematic wonders!
The Crème de la Crème of Free Movie Streaming
Imagine a world where you can stream your favorite movies from the comfort of your own home, without spending a dime. These websites have revolutionized the way we consume movies, offering a wide array of genres and titles. So, without further ado, let's dive into the Best 12 websites to watch free movies online:
1. Popcornflix: Popcorn and a Movie, Anyone?
Popcornflix is a goldmine for movie enthusiasts. It's like having an unlimited supply of popcorn and an ever-ready theater screen. Whether you're into action, romance, comedy, or horror, Popcornflix has got it all! With an extensive collection of both classic and recent films, this website is a one-stop-shop for movie lovers.
2. Crackle: Where Hollywood Meets Your Living Room
Crackle is Sony's gift to cinephiles worldwide. It offers an impressive library of movies and TV shows, with a user-friendly interface that makes navigation a breeze. From cult classics to the latest blockbusters, Crackle has something for everyone.
3. Tubi: The Ultimate Free Streaming Destination
Tubi is a hidden gem in the world of free movie streaming. With thousands of movies and TV shows to choose from, it's a paradise for those who crave variety. Plus, it's available on various devices, so you can watch your favorites wherever you are.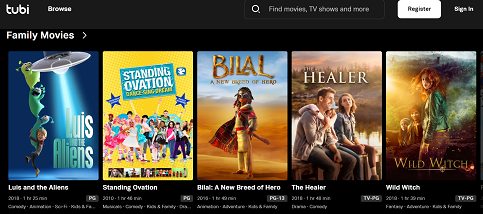 4. Vudu: Free Movies with a Touch of Quality
Vudu may be known for its premium rentals, but it also offers a selection of free movies. These free titles are ad-supported, so you might have to endure a few commercials, but it's a small price to pay for high-quality streaming.
5. Kanopy: Intellectual Cinema at Your Fingertips
If you're looking for more than just mainstream blockbusters, Kanopy is the platform for you. This service partners with public libraries and universities, offering a curated collection of independent films, documentaries, and classic cinema. It's perfect for those seeking a more intellectual movie-watching experience.
6. 123Movies: Your Gateway to the World of Movies
123Movies is a household name in the world of free movie streaming. It provides a vast library of movies and TV series from all genres. However, be cautious when using this site, as the legality of its content can be a bit murky.
7. Yify TV: Home to High-Quality Movies
Yify TV is known for its high-definition movie offerings. You can watch the latest releases and classics without compromising on picture quality. While it may not be entirely legal, it's a popular choice among movie buffs.
8. SnagFilms: Where Every Movie Tells a Story
SnagFilms is a platform that celebrates the art of storytelling through documentaries and indie films. If you have a penchant for thought-provoking cinema, this is the place to be. With SnagFilms, you can indulge in films that explore the depths of the human experience.
9. Popcorn Time: The Netflix of the Torrent World
Popcorn Time is a unique streaming platform that relies on torrent technology to provide you with a wide range of movies and TV shows. It's user-friendly and a popular choice for those who want to watch free movies without any hassle.
10. FMovies: The Global Movie Theater
FMovies is a global hub for free movie streaming. It offers a vast selection of films and TV series from around the world. The site's user interface is simple, making it easy to find and enjoy your favorite movies.
11. AZMovies: Your Personal Movie Repository
AZMovies is a well-organized platform that provides access to a massive library of movies. From classics to the latest releases, you can easily find and enjoy your favorite films. However, like many free movie websites, it may have occasional ads.
12. SolarMovie: The Sunshine of Free Streaming
SolarMovie is a no-frills website that delivers free movies without unnecessary distractions. It's a straightforward platform for those who just want to dive into a movie without any fuss.
FAQs: Unraveling the Mysteries of Free Movie Streaming
Now that you know about the Best 12 websites to watch free movies online, let's tackle some common questions that might be lingering in your mind:
Q1: Are these websites really free to use?
Yes, these websites offer free access to a wide range of movies and TV shows. However, some of them may rely on advertisements to generate revenue, which means you might encounter occasional ads during your viewing experience.
Q2: Is it legal to use these websites to watch movies for free?
The legality of these websites can vary. Some, like Popcornflix and Kanopy, are entirely legal. Others, like 123Movies and Yify TV, operate in a legal gray area. It's essential to be aware of the laws in your country regarding online streaming.
Q3: Do I need to create an account to watch movies on these platforms?
While some websites might require you to create an account, many of the options listed here allow you to watch movies without any registration. Keep in mind that creating an account can provide additional features and a more personalized experience.
Q4: Can I watch movies on these platforms from my mobile device?
Yes, most of these platforms are mobile-friendly and have apps available for both Android and iOS devices. This allows you to enjoy free movies on your smartphone or tablet.
Q5: Are there any risks associated with using these websites?
There can be some risks, especially on websites that operate in legal gray areas. These may expose you to potential malware and security threats. To mitigate these risks, consider using a reputable antivirus program and a virtual private network (VPN) while streaming from these platforms.
Conclusion
The world of free movie streaming is a treasure trove for movie enthusiasts looking to expand their cinematic horizons without emptying their wallets. The Best 12 websites to watch free movies online offer a diverse range of options, from the latest blockbusters to indie gems and documentaries that touch the soul.
Before you dive in, it's essential to be aware of the legal implications and potential risks associated with these platforms. To ensure a safe and enjoyable streaming experience, use a reliable antivirus program and a VPN if necessary.
Now, go ahead and embark on your cinematic adventure! Whether you're in the mood for laughter, tears, or thought-provoking storytelling, these websites have got you covered. So, grab your popcorn, find a comfy spot on the couch, and let the movies roll – because there's no better time to explore the Best 12 websites to watch free movies online. Happy streaming!
(Visited 24 times, 1 visits today)