Discover the top 10 online Hindi movies websites that will transport you into the captivating world of Bollywood! Explore the ultimate list for endless Hindi film entertainment.
Bollywood, with its glitz, glamour, song-and-dance routines, and gripping stories, has long been the heartthrob of global cinema. If you're a Hindi movie enthusiast or even just someone curious to explore the magic of Indian cinema, you're in for a treat! In this article, we're taking you on a virtual journey through the top 10 online Hindi movies websites that will let you dive headfirst into the vibrant world of Bollywood.
We understand that finding the perfect platform for your Bollywood fix can be a daunting task. With a multitude of streaming services at your fingertips, each vying for your attention, it's easy to feel overwhelmed. Fear not! We've done the legwork for you and curated a list of the best online Hindi movies websites. Whether you're into timeless classics, contemporary blockbusters, or indie gems, these platforms have you covered. So, let's get started on this cinematic adventure!
The Big Players in Online Hindi Movies Streaming
1. Netflix: The Global Leader
When it comes to online streaming, Netflix is a name that needs no introduction. This streaming giant has a substantial collection of Hindi movies, spanning multiple genres, from romance and drama to action and comedy. What sets Netflix apart is its seamless interface, user-friendly navigation, and the ability to create multiple user profiles for your family. With subtitles and dubbed versions available, you won't miss a beat of your favorite Hindi films.
Why choose Netflix for Hindi movies?
Extensive collection of Hindi movies.
User-friendly interface.
Multiple user profiles.
Subtitles and dubbing options.
2. Amazon Prime Video: Bollywood Blockbusters Galore
Amazon Prime Video is another heavy-hitter in the world of online streaming. With a diverse library of Hindi films, including some of the latest releases, Prime Video is your one-stop destination for Bollywood entertainment. What's more, it often features exclusive premieres of Hindi movies, making it a go-to platform for those who want to stay on top of the latest in Indian cinema.
Why choose Amazon Prime Video for Hindi movies?
Latest Hindi movie releases.
Exclusive premieres.
User-friendly interface.
Additional Prime benefits.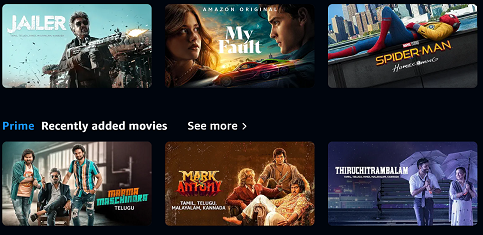 3. Disney+ Hotstar: Where Magic Meets Bollywood
Disney+ Hotstar is the perfect blend of Disney's enchantment and Bollywood's charisma. It offers a wide selection of Hindi movies, TV shows, and sports content. The platform is divided into two tiers: VIP and Premium. The VIP subscription gives you access to a variety of Hindi content, including sports, while the Premium subscription opens the door to a vast library of Hindi movies and shows.
Why choose Disney+ Hotstar for Hindi movies?
A blend of Disney and Bollywood content.
Sports and entertainment in one place.
VIP and Premium subscription options.
Excellent content for kids and family.
4. Zee5: A Treasure Trove of Hindi Entertainment
Zee5 is a dedicated platform for Hindi content, making it a must-visit for Bollywood enthusiasts. The website offers a mix of movies, TV series, and original shows. What's unique about Zee5 is its regional content, allowing you to explore Hindi films and shows from different parts of India. If you're looking for an authentic Hindi cinema experience, Zee5 has you covered.
Why choose Zee5 for Hindi movies?
Extensive Hindi content.
Regional language options.
Original shows and movies.
User-friendly interface.
Specialized Platforms for Hindi Movie Buffs
5. Eros Now: The Bollywood Fanatic's Paradise
If you're a die-hard Bollywood fan, Eros Now is the ultimate destination. This platform is dedicated to Hindi entertainment, offering a vast library of movies, TV shows, music videos, and even original content. Eros Now caters to all tastes, whether you're into classic Hindi cinema or contemporary blockbusters.
Why choose Eros Now for Hindi movies?
Extensive Bollywood content.
Original content and music videos.
Classic and contemporary films.
User-friendly interface.
6. Voot: The Quirky, Offbeat Choice
Voot is known for its quirky and offbeat selection of Hindi movies and shows. It's an ideal platform if you're in the mood for something different from the mainstream. Voot also offers a range of regional content and is particularly popular for its reality shows, making it a unique choice for a diverse range of entertainment.
Why choose Voot for Hindi movies?
Offbeat and quirky content.
Regional content.
Reality shows and diverse entertainment.
Unique selection.
Hidden Gems for the Connoisseur
7. Mubi: Curated Excellence
Mubi is not your typical streaming platform; it's a curated cinema experience. If you're a cinephile looking for critically acclaimed Hindi films and international cinema, Mubi is your haven. What sets Mubi apart is its ever-rotating selection of 30 films, offering you a new gem to discover every day.
Why choose Mubi for Hindi movies?
Curated selection of films.
Critically acclaimed Hindi movies.
International cinema.
Daily rotation of films.
8. JioCinema: A Jio Network Exclusive
JioCinema is exclusively available to Jio network users and offers a diverse collection of Hindi movies and shows. If you're a Jio subscriber, you can enjoy this platform at no extra cost. With a variety of genres and content available, JioCinema caters to all tastes.
Why choose JioCinema for Hindi movies?
Exclusively available to Jio network users.
No extra cost for Jio subscribers.
Diverse collection of Hindi content.
User-friendly interface.
Independent Cinema and Documentaries
9. DocuBay: Explore the Real India
If you have a penchant for documentaries and want to explore the real India, DocuBay is the place to be. This platform offers a curated collection of documentaries that delve deep into Indian culture, history, and society. It's a refreshing departure from mainstream entertainment and provides valuable insights into the country.
Why choose DocuBay for Hindi movies?
Curated documentary collection.
In-depth exploration of Indian culture.
Diverse documentary themes.
Unique perspective on India.
The Oldies But Goodies
10. YouTube: A Goldmine of Hindi Classics
Believe it or not, YouTube is a treasure trove of classic Hindi movies. Many production houses and channels have their official YouTube channels where they offer a selection of vintage Hindi films for free. While you might encounter ads and the occasional video quality hiccup, YouTube remains a go-to platform for those who cherish the golden age of Bollywood.
Why choose YouTube for Hindi movies?
Free access to classic Hindi movies.
Official channels of production houses.
Vintage Bollywood experience.
Wide selection.
FAQs
Q1: Are these platforms available worldwide?
Yes, most of these platforms are available worldwide, but the availability of content may vary from region to region. Some may require a VPN to access content in certain countries.
Q2: Can I watch Hindi movies with English subtitles?
Absolutely! Many of these platforms offer Hindi movies with English subtitles or even dubbed versions for non-Hindi speakers.
Q3: Do I need a subscription for all of these platforms?
While most of these platforms offer free content, they also have premium subscription options that provide access to a broader selection of movies and additional features. The choice is yours!
Q4: Can I watch these on my smartphone or smart TV?
Yes, all these platforms offer apps that are compatible with smartphones and smart TVs, making it easy to enjoy Hindi movies on the big screen.
Conclusion
In the world of online streaming, the options for Hindi movie enthusiasts are aplenty. Whether you're into classic Bollywood, contemporary blockbusters, independent cinema, or documentaries, there's a platform that caters to your specific taste. From the global giants like Netflix and Amazon Prime Video to the more specialized ones like Eros Now and Mubi, these online Hindi movies websites are your gateway to Bollywood bliss.
So, grab your popcorn, settle into your favorite spot, and let the cinematic magic of Bollywood transport you to a world filled with romance, drama, action, and laughter. With these top 10 online Hindi movies websites, you're just a click away from a Bollywood extravaganza! Don't miss out on the cinematic adventure – start streaming now and unlock the Bollywood magic. Happy watching!
(Visited 17 times, 1 visits today)