Discover the ultimate guide to the 12 best Android apps for free movies and web series. Dive into a world of entertainment without breaking the bank!
Are you a movie buff or a binge-watcher who's constantly on the hunt for the latest movies and web series? If you own an Android device, you're in for a treat! In this digital age, entertainment is at your fingertips, and you don't need to empty your pockets for it. We've curated a list of the 12 best Android apps for free movies and web series that will keep you entertained for hours on end. Whether you're into action, drama, comedy, or thrillers, there's something for everyone in this selection. Say goodbye to those pricey streaming services and let's dive into a world of free entertainment!
The 12 Best Android Apps for Free Movies and Web Series
So, what are the 12 best Android apps for free movies and web series that you should have on your device? Let's break it down:
We strongly oppose piracy, illegal downloading and copyright infringement. This article is for information only.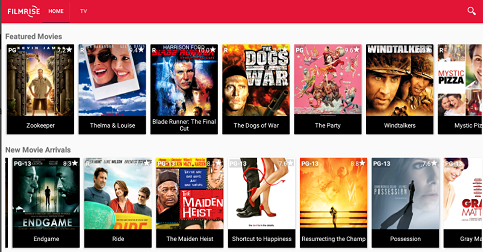 1. Popcorn Time: Your Go-To Streaming Hub!
When it comes to free movie and web series apps, Popcorn Time is a name that frequently comes up. It offers a vast library of content, ranging from classic films to the latest releases. The user-friendly interface ensures you can find your favorite shows and movies with ease. Get ready to enjoy top-notch streaming without spending a dime!
2. Crackle: The Hidden Gem of Streaming Apps
If you're looking for a diverse collection of movies and web series, Crackle is the hidden gem you've been searching for! This app boasts a vast array of content, including exclusive shows and rare classics. It's not just about quantity; the quality of the content is equally impressive.
3. Tubi: Where Choices Abound!
Tubi is an app that doesn't disappoint when it comes to choices. With a library that rivals some paid streaming services, you can access a plethora of movies and web series in various genres. The best part? It's all free, and you don't even need to sign up!
4. Pluto TV: A TV Lover's Paradise
For those who love the traditional TV experience, Pluto TV brings you a wide variety of channels with movies and web series. You can watch live TV, catch up on your favorite shows, and explore an on-demand library that's sure to keep you hooked.
5. Crunchyroll: Anime Enthusiast's Haven
Calling all anime enthusiasts! Crunchyroll is your go-to app for a plethora of free anime content. You'll find both classic and the latest anime series available for streaming. Immerse yourself in the fantastic world of anime without breaking the bank.
6. Vudu: The Goldmine of Free Movies
Vudu is primarily known for its pay-per-view service, but it also offers a collection of free movies. This app is a goldmine when you're in the mood for a movie night without the cost. Explore the free section for an abundance of cinematic gems.
7. Kodi: The Open-Source Marvel
Kodi isn't just a media player; it's a versatile platform that allows you to stream movies and web series via various add-ons. While Kodi itself is open-source and legal, be cautious when using third-party add-ons. With the right add-ons, Kodi can become your ultimate entertainment hub.
8. Yidio: Stream from Multiple Sources
Tired of jumping from one app to another to find your favorite content? Yidio solves that problem by aggregating movies and web series from various sources. You can browse through a wide selection and get redirected to the app where the content is available for free.
9. FreeFlix HQ: HD Content at Your Fingertips
FreeFlix HQ is all about high-quality streaming. This app offers movies and web series in HD, and it even has a built-in player for your convenience. If you're a stickler for video quality, this app is a must-try.
10. Viewster: Your Ticket to Anime and More
Another app tailored for anime fans, Viewster not only provides a wide range of anime series but also delves into other categories. Dive into the world of documentaries, sci-fi, and fantasy – all for free!
11. FilmRise: A Hub for Classic Cinema
If you have a soft spot for classic movies, FilmRise is your destination. This app is packed with timeless films and cult classics that you can stream for free. Relive the golden age of cinema on your Android device.
12. TVMuse: A Treasure Trove of TV Shows
For those who can't get enough of TV shows, TVMuse is a treasure trove of content. It offers a vast collection of TV series, both old and new, and you can watch them for free.
FAQs about Android Apps for Free Movies and Web Series
Q1: Are these apps legal to use?
A1: Most of the apps mentioned are legal and offer content that's available in the public domain. However, always be cautious when using third-party add-ons, as they may not always comply with copyright laws.
Q2: Do I need to sign up or subscribe to use these apps?
A2: Many of the apps on this list are free and don't require you to sign up or subscribe. However, some may offer premium services that come with additional features and benefits.
Q3: Can I download content to watch offline?
A3: It depends on the app. Some apps, like Popcorn Time and Tubi, allow you to download content for offline viewing, while others may not offer this feature.
Q4: Do these apps have ads?
A4: Yes, most of these free apps are ad-supported. You might encounter ads while watching content, but they help keep the apps free for users.
Q5: Are there region restrictions for these apps?
A5: Some apps may have regional restrictions, so it's a good idea to use a VPN if you want to access content that's not available in your region.
Conclusion
Entertainment should be accessible to all, and these 12 best Android apps for free movies and web series make that a reality. Whether you're into blockbuster movies, niche genres, or binge-watching TV series, there's something on this list for everyone. Remember to use these apps responsibly and always ensure you're in compliance with your local copyright laws.
So, why wait? Dive into the world of free entertainment on your Android device today. Pop some popcorn, get cozy, and enjoy your favorite movies and web series without spending a dime. Happy streaming!
(Visited 16 times, 1 visits today)