Dive into the world of the 12 best web series to enjoy a rollercoaster of emotions and captivating storylines! From drama to comedy, we've got your binge-watching covered.
Are you on the lookout for the ultimate binge-worthy web series to keep you glued to your screen? Look no further, as we've compiled a list of the 12 best web series that will take you on a rollercoaster ride through thrilling stories, unforgettable characters, and epic adventures. Whether you're into gripping dramas, laugh-out-loud comedies, or mind-bending mysteries, we've got you covered. So, let's jump into the world of web series that will leave you craving for more!
best web series to watch
1. Breaking Bad
"Breaking Bad" isn't just a series; it's an adrenaline-pumping rollercoaster! Join Walter White, a high school chemistry teacher turned methamphetamine kingpin, in this epic journey through the dark underbelly of the drug trade.
💡 Why watch Breaking Bad?
Intense drama with jaw-dropping plot twists.
Exceptional character development.
Iconic performances by Bryan Cranston and Aaron Paul.
A masterclass in storytelling.
2. Stranger Things
"Stranger Things" is a nostalgic trip to the 1980s filled with supernatural elements, government conspiracies, and a group of kids who face unimaginable horrors in their small town.
🔥 Why watch Stranger Things?
A perfect blend of sci-fi, horror, and heartwarming friendships.
A stellar cast of young actors.
A unique, otherworldly storyline.
A heavy dose of '80s nostalgia.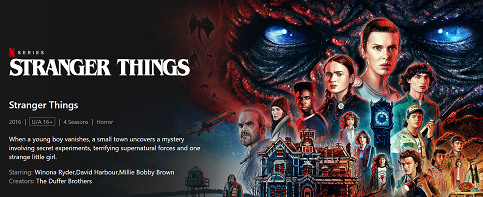 3. Game of Thrones
"Game of Thrones" is the epitome of epic fantasy series. With its intricate plots, power struggles, and unforgettable characters, it's a must-watch for any fantasy enthusiast.
👑 Why watch Game of Thrones?
A sprawling, immersive world.
Complex characters and moral dilemmas.
Dragons, magic, and political intrigue.
An unforgettable fantasy saga.
4. The Crown
"The Crown" delves into the life and reign of Queen Elizabeth II, providing a gripping historical drama filled with intrigue, politics, and family dynamics.
👸 Why watch The Crown?
Outstanding performances, notably by Claire Foy and Olivia Colman.
A glimpse into the royal world and its challenges.
Stunning period details and costumes.
A deep exploration of power and duty.
5. The Mandalorian
"The Mandalorian" takes us to a galaxy far, far away, following the adventures of a lone bounty hunter in the Star Wars universe. This space western is packed with action, humor, and heart.
🌌 Why watch The Mandalorian?
Incredible CGI and special effects.
A dose of Star Wars nostalgia.
Mando and Baby Yoda, an iconic duo!
A fresh take on the Star Wars universe.
6. Black Mirror
"Black Mirror" is a thought-provoking anthology series that explores the dark side of technology and its impact on society. Each episode is a self-contained story that will leave you questioning the world we live in.
📱 Why watch Black Mirror?
Mind-bending, dystopian narratives.
Social commentary on technology.
A series of thought-provoking "what if" scenarios.
A stark reflection of our modern world.
7. Friends
"Friends" is a classic, feel-good comedy that's stood the test of time. Join the six friends, Rachel, Ross, Monica, Chandler, Joey, and Phoebe, as they navigate life, love, and the hilarity of adulthood in New York City.
🤣 Why watch Friends?
Iconic catchphrases and unforgettable moments.
Timeless humor that resonates with all ages.
Heartwarming and relatable friendships.
A perfect blend of comedy and drama.
8. The Witcher
"The Witcher" is a fantasy series based on the popular book and video game franchise. Geralt of Rivia, a monster hunter, navigates a world filled with mythical creatures, magic, and political intrigue.
🐺 Why watch The Witcher?
Henry Cavill's captivating performance.
Epic battles and fantastic creatures.
An intricate, nonlinear narrative.
A rich, fantasy world.
9. Money Heist
"Money Heist" is a Spanish heist crime drama that follows the thrilling story of a group of robbers who plan and execute heists on the Royal Mint of Spain and the Bank of Spain.
💰 Why watch Money Heist?
Complex, well-developed characters.
High-stakes heists and suspenseful storytelling.
Twists and turns that keep you guessing.
A unique take on the heist genre.
10. The Office
"The Office" is a mockumentary-style comedy series that takes you into the quirky and often absurd world of the Dunder Mifflin paper company. Follow the lives and antics of its employees in this hilarious workplace sitcom.
📄 Why watch The Office?
Cringe-worthy and laugh-out-loud humor.
A lovable cast of oddball characters.
A satirical take on office life.
A binge-worthy, feel-good show.
11. The Marvelous Mrs. Maisel
"The Marvelous Mrs. Maisel" is a delightful comedy-drama that transports you to the 1950s as you follow Miriam "Midge" Maisel's journey from housewife to stand-up comedian.
🎤 Why watch The Marvelous Mrs. Maisel?
A strong, independent female lead.
Witty humor and vibrant period setting.
A fresh take on the world of stand-up comedy.
Empowering and inspiring storytelling.
12. Peaky Blinders
"Peaky Blinders" is a gritty crime drama set in post-World War I Birmingham, England. Follow the Shelby crime family as they rise to power and face intense challenges in a world of violence and corruption.
🔪 Why watch Peaky Blinders?
Cillian Murphy's powerful performance.
A gripping, atmospheric period drama.
Complex characters and moral ambiguity.
A thrilling exploration of the criminal underworld.
FAQs: Frequently Asked Questions
Q1: How do I choose the best web series to watch?
A1: It depends on your preferences! If you're into gripping dramas, consider "Breaking Bad" or "The Crown." For sci-fi and horror fans, "Stranger Things" is a top pick. Comedy lovers should not miss "Friends" or "The Office."
Q2: Are all of these web series suitable for all ages?
A2: While many of them are suitable for a broad audience, some like "Game of Thrones" and "Black Mirror" contain mature content. Always check the content rating and viewer discretion advisories.
Q3: Can I find these web series on popular streaming platforms?
A3: Yes, most of these web series are available on popular streaming platforms like Netflix, Amazon Prime Video, and Disney+. However, availability may vary by region.
Q4: Are there more seasons coming for these web series?
A4: Some of these series are complete, while others have announced new seasons. It's always a good idea to check for updates from the creators and streaming platforms.
Conclusion
In the ever-expanding world of web series, finding the perfect one can be a daunting task. But fear not! The 12 best web series listed above are your gateway to an enthralling world of storytelling, where you'll laugh, cry, and be on the edge of your seat. So grab your popcorn, find a cozy spot on the couch, and dive into these captivating tales.
Whether it's the intense drama of "Breaking Bad," the supernatural mysteries of "Stranger Things," or the laugh-out-loud moments in "Friends," there's something for everyone. Happy binge-watching, and may your screen time be filled with unforgettable moments and stories!
(Visited 12 times, 1 visits today)