Dive into the world of Hindi web series and discover the absolute best gems that'll leave you craving for more! From heart-pounding thrillers to heartwarming dramas, we've got it all covered.
Hey there, binge-watch enthusiasts! Are you on the lookout for the best web series in Hindi to escape into the enchanting world of Indian storytelling? Well, look no further because we've got you covered. Whether you're a die-hard fan of gripping thrillers, a sucker for heart-touching dramas, or just in need of a good laugh, the Hindi web series world has something for everyone. So, grab that popcorn, settle into your comfy couch, and let's explore the mesmerizing realm of Hindi web series together!
Now, without further ado, let's dive straight into the heart of this tantalizing adventure!
Hindi Web Series That Pack a Punch
Are you ready to have your heart race and adrenaline surge? These Hindi web series are like a rollercoaster ride for your emotions!
1. Sacred Games – A Crime Saga Like No Other
Sacred Games, an epic masterpiece, is a mind-bending thriller that's taken the world by storm. With two seasons that'll keep you at the edge of your seat, this series dives deep into the dark underbelly of Mumbai's criminal world. Here's why it's one of the best web series in Hindi:
An intriguing cat-and-mouse chase between the relentless Sartaj Singh and the enigmatic gangster Ganesh Gaitonde.
Stellar performances by Saif Ali Khan and Nawazuddin Siddiqui that'll give you goosebumps.
A gripping narrative with twists and turns that will leave you guessing till the very end.
2. Mirzapur – Guns, Power, and Drama Galore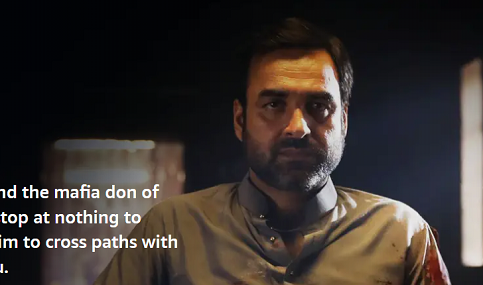 Mirzapur is a wild ride through the lawless badlands of Uttar Pradesh. If you crave drama, power struggles, and a generous dose of bullets, this one's for you. Here's why it's among the best web series in Hindi:
The clash of the power-hungry Tripathi family and two brothers caught in the crossfire.
A gritty, raw portrayal of crime and corruption in rural India.
Pankaj Tripathi's spellbinding performance as the ruthless Kaleen Bhaiya.
3. Breathe: Into the Shadows – A Psychological Thriller Extraordinaire
If psychological thrillers give you the chills, "Breathe: Into the Shadows" is a must-watch. With a gripping plot and stellar performances, it's a standout in the world of Hindi web series. Here's why it makes the cut for the best web series in Hindi:
Abhishek Bachchan's riveting performance as a desperate father on a quest to save his kidnapped daughter.
A nail-biting storyline that keeps you guessing.
A rollercoaster of emotions that'll leave you breathless!
Bring on the Feels: Heartwarming Hindi Web Series
Sometimes, all you need is a good cry or a heartwarming story to lift your spirits. These Hindi web series will tug at your heartstrings.
4. Little Things – Love, Life, and Everything In Between
"Little Things" is a gem of a series that explores the sweet and sour moments of a modern-day relationship. With relatable characters and genuine emotions, it's one of the best web series in Hindi for those seeking a slice of life. Here's why it's so special:
Mithila Palkar and Dhruv Sehgal's chemistry that feels real and heartwarming.
A realistic portrayal of the ups and downs of a young couple's life.
A feel-good series that will make you cherish the little things in your own life.
5. Panchayat – Laughter and Life Lessons in a Rural Setting
If you're in the mood for laughter and life lessons, "Panchayat" should be your go-to. This Hindi web series combines humor and heart in a rural setting. Here's why it's on our list of the best web series in Hindi:
Jitendra Kumar's impeccable comic timing that'll have you in splits.
A refreshing take on rural India and the quirks of village life.
A lighthearted series with a heartwarming message.
6. Kota Factory – An Ode to Student Life and Dreams
"Kota Factory" is a brilliant take on the competitive world of IIT preparation. This series captures the essence of student life, dreams, and friendship in a way that's both relatable and heart-touching. Here's why it's a must-watch among the best web series in Hindi:
A realistic portrayal of the pressure faced by students preparing for entrance exams.
Exceptional performances by the young cast.
A series that resonates with anyone who's chased their dreams against all odds.
Laugh Your Heart Out: Hindi Web Series for Comedy Lovers
If laughter is your therapy, these Hindi web series will have you rolling on the floor with joy!
7. TVF Pitchers – Entrepreneurship with a Dose of Hilarity
"TVF Pitchers" is the perfect blend of entrepreneurship and comedy. It's a hilarious take on the startup culture in India and the trials and tribulations of four friends trying to make it big. Here's why it's among the best web series in Hindi for comedy lovers:
Rib-tickling humor that'll have you in stitches.
An engaging storyline that's both relatable and inspiring.
A series that'll make you believe in the power of chasing your dreams.
8. Gullak – Slice of Life Comedy at Its Best
"Gullak" is a heartwarming yet hilarious series that takes you on a journey through the everyday life of a middle-class family. With its relatable characters and witty humor, it's a top pick for comedy aficionados. Here's why it's one of the best web series in Hindi:
The everyday situations and relatable struggles of the Mishra family.
Outstanding performances by the cast, making you feel like part of the family.
A comedy series that's as comforting as your grandma's cooking.
FAQs: About Hindi Web Series Answered!
Q1. What makes Hindi web series different from Bollywood movies?
Hindi web series offer a longer format that allows for more in-depth storytelling and character development. They often explore themes and genres that may not be as prevalent in mainstream Bollywood movies.
Q2. Are Hindi web series available with subtitles for non-Hindi speakers?
Yes, most popular Hindi web series come with subtitles in multiple languages, making them accessible to a wider audience.
Q3. Where can I watch these Hindi web series?
You can find these web series on popular streaming platforms like Netflix, Amazon Prime Video, Disney+ Hotstar, and more.
Q4. Are there any family-friendly Hindi web series?
Certainly! There are several family-friendly Hindi web series like "The Family Man" and "Breathe" that can be enjoyed by viewers of all ages.
Conclusion: of Hindi Web Series!
And there you have it, folks! The world of Hindi web series is a treasure trove of entertainment, offering something for every palate. Whether you're a fan of heart-pounding thrillers, heartwarming dramas, or laugh-out-loud comedies, there's a series waiting for you to hit that play button.
So, go ahead, embark on this exhilarating journey through the best web series in Hindi. Grab your remote, get cozy, and let the binge-watching begin. Trust us; you won't be disappointed! Happy watching!
(Visited 31 times, 1 visits today)