Looking for the best Indian web series? Check out our handpicked "15 Indian web series list" that will keep you hooked from start to finish. Discover top-notch entertainment right here!
Are you ready to embark on a rollercoaster ride through the dazzling world of Indian web series? With the digital entertainment landscape booming, the options are limitless, and it's easy to get lost in a sea of choices. But fret not, for we've got you covered! In this exciting journey, we'll unveil a handpicked selection of the finest Indian web series that you absolutely can't afford to miss.
From heart-pounding thrillers to heartwarming dramas and side-splitting comedies, the Indian web series scene offers something for everyone. So, grab your popcorn, get comfy, and let's dive into our "15 Indian web series list" that will leave you craving for more.
Best 12 Indian Web Series List | best web series to watch
1. Sacred Games
Kickstart your Indian web series journey with the crime thriller that set the bar high!
"Sacred Games" weaves a tale of crime, conspiracy, and chaos, intricately set in the heart of Mumbai. With unforgettable characters like Sartaj Singh and Ganesh Gaitonde, this series will keep you on the edge of your seat!
2. Mirzapur
Blood, bullets, and a dash of dark humor – Mirzapur takes you to a lawless world you won't forget.
Prepare for a wild ride in the lawless town of Mirzapur, where power, politics, and crime collide. With compelling characters and gripping storytelling, this series is a must-watch for crime drama enthusiasts.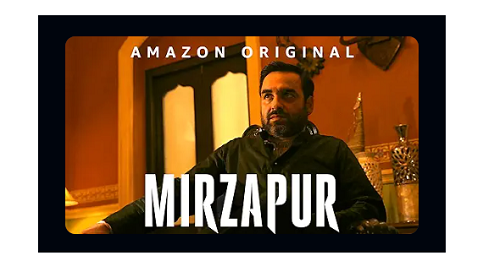 3. Paatal Lok
Step into the grim underbelly of society with "Paatal Lok" and question the definitions of good and evil.
"Pataal Lok" ventures into the darkest corners of human existence, exploring the blurred lines between right and wrong. It's a captivating journey that will keep you pondering long after the credits roll.
The Laughter Factory
4. The Family Man
Balancing a mundane job with covert operations – this one's a hilarious yet action-packed show!
"The Family Man" introduces us to Srikant Tiwari, a middle-class man leading a double life as a secret agent. With laugh-out-loud humor and thrilling escapades, it's a perfect blend of action and comedy.
5. Breathe
What would you do for a loved one? "Breathe" takes suspense to a whole new level.
"Breathe" is a nail-biting thriller that revolves around a father's quest to save his son. With brilliant performances and intense storytelling, it's a series that'll keep you guessing until the very end.
The Young Hearts
6. Little Things
Join Kavya and Dhruv in their charming journey through the ups and downs of a modern relationship.
"Little Things" is a delightful exploration of love and companionship in the fast-paced city of Mumbai. With its relatable characters, it's like a warm hug in the form of a web series.
7. Permanent Roommates
Take a hilarious ride with Tanya and Mikesh as they navigate the crazy world of relationships.
"Permanent Roommates" is a rib-tickling romantic comedy that'll have you in splits. It's a hilarious take on the intricacies of modern relationships and the quest for that elusive 'forever.'
The Historical Epics
8. Paurashpur
Dive into a world of power, politics, and passion in this captivating historical drama.
"Paurashpur" is a visually stunning historical drama with a rich storyline. It's a power-packed saga filled with royal intrigue and larger-than-life characters.
9. Tumbbad
Get ready for a mystical journey into the heart of greed and supernatural mystery.
"Tumbbad" is a spellbinding cinematic experience that takes you on a journey through centuries. This dark fantasy will leave you mesmerized with its unique narrative.
The Underrated Gems
10. Asur: Welcome to Your Dark Side
Unearth the secrets of the human psyche in this mind-bending psychological thriller.
"Asur" delves into the psyche of a criminal profiler and a serial killer with a riveting cat-and-mouse game. It's an underrated gem that deserves the spotlight.
11. Aarya
A powerful performance by Sushmita Sen in a gripping tale of crime and redemption.
"Aarya" marks the return of Sushmita Sen in a powerful role of a woman who must navigate the treacherous world of crime to protect her family. It's a series that'll keep you hooked with its twists and turns.
The Supernatural Surprises
12. Betaal
Zombies in an Indian web series? "Betaal" is a spine-tingling surprise!
"Betaal" introduces zombies into the Indian web series scene, blending supernatural horror with ancient folklore. It's a thrilling series that'll send chills down your spine.
13. Ghoul
In a dystopian future, an ancient evil awakens. "Ghoul" is a supernatural masterpiece.
"Ghoul" takes us to a dystopian future where a sinister presence threatens to expose humanity's darkest secrets. It's a series that's as thought-provoking as it is terrifying.
The Unconventional Delights
14. Delhi Crime
A gritty, realistic portrayal of a heinous crime and the relentless pursuit of justice.
"Delhi Crime" is a hard-hitting series based on real events. It offers a deep dive into the investigation of a notorious crime, showcasing the determination of law enforcement.
15. Made in Heaven
Step into the extravagant world of big fat Indian weddings with "Made in Heaven."
"Made in Heaven" invites you to the glitzy world of extravagant Indian weddings. With stunning visuals and a unique perspective, it's a captivating watch.
FAQs: Your Burning Questions Answered
Q1: Are these series available on popular streaming platforms?
Absolutely! You can catch these series on popular streaming platforms like Netflix, Amazon Prime, Disney+ Hotstar, and more.
Q2: Can I watch these series with subtitles?
Most of these series offer subtitles in multiple languages, making them accessible to a wider audience.
Q3: Are there more Indian web series worth exploring?
Certainly! The world of Indian web series is vast and continually expanding. These 15 are just the tip of the iceberg!
Q4: Are there any family-friendly options among these series?
Some of the series mentioned here may not be suitable for all age groups. Always check the content rating and viewer discretion before watching.
Conclusion
There you have it, folks! Our handpicked "15 Indian web series list" that spans across genres and themes, ensuring there's something for everyone. Whether you're a fan of thrilling crime dramas, heartwarming tales of love, or spine-tingling supernatural mysteries, Indian web series have it all!
So, grab your remote, choose your favorite series, and let the binge-watching begin. These shows are bound to keep you entertained for hours on end. And who knows, you might just discover your new favorite series in this exciting world of Indian web entertainment!
(Visited 24 times, 1 visits today)