Discover the ultimate online shopping experience with our list of the top 15 online shopping apps! Explore the latest trends, hottest deals, and exclusive discounts all in one place. Don't miss out!
Welcome to the digital age of shopping, where you can snag the latest fashion, gadgets, and more right from your smartphone or computer! In this fast-paced world, online shopping apps have become a game-changer, revolutionizing the way we shop, browse, and bag those irresistible deals. Whether you're a seasoned online shopper or a newbie looking to dive into the realm of e-commerce, we've got you covered. In this article, we'll take you on a whirlwind tour of the 15 online shopping apps you absolutely must check out! 📱💳💻
Ready to score big and get your retail therapy on? Let's dive right in and explore the world of digital storefronts!
The Ultimate Shopping Companion Apps
Gone are the days when you had to brave the traffic, endure long queues, or scour crowded malls for the best deals. Online shopping apps have put the power in your hands. Here are the top 15 apps that will redefine the way you shop: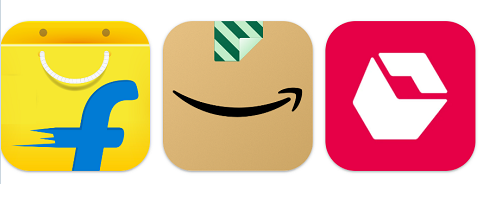 1. Amazon: The King of E-commerce 🛒
Amazon, the behemoth of the online retail world, brings you a vast universe of products at your fingertips. From electronics and fashion to groceries and everything in between, Amazon offers a seamless shopping experience with unparalleled convenience.
Prime delivery for lightning-fast shipping!
Extensive range of products – from A to Z!
User-friendly interface for hassle-free browsing and buying.
2. eBay: Your Treasure Trove 🏺
Are you an aficionado of vintage finds and rare collectibles? eBay is your go-to destination. It's the largest marketplace for both buyers and sellers where you can discover unique items and snag the best deals through bidding.
Wide variety of products, both new and used.
Auction-style listings for thrill-seeking shoppers.
Seller ratings to ensure a trustworthy shopping experience.
3. Walmart: Saving Money, Living Better 💲
Walmart's online shopping app is your one-stop shop for all your daily needs. With an extensive inventory and a focus on low prices, you can save big while shopping from the comfort of your own home.
Everyday low prices for budget-conscious shoppers.
Grocery pickup and delivery options.
Rollbacks and special deals to keep your wallet happy.
4. Target: More Than a Bullseye 🎯
Target's app is your best bet for stylish and affordable finds. They offer a wide range of products, from clothing and home decor to electronics and baby essentials.
Exclusive in-app deals for the savvy shopper.
Same-day delivery for your last-minute needs.
RedCard benefits for extra savings.
5. AliExpress: Global Shopping Galore 🌏
If you're on the hunt for international goods at unbeatable prices, AliExpress is your ticket to a world of fantastic deals. It's a global marketplace with a vast array of products from China and beyond.
Inexpensive and diverse product range.
Multiple sellers for a wide variety of choices.
Buyer protection for secure transactions.
6. Zappos: Shoe Heaven 👠
Got a passion for footwear? Zappos specializes in all things shoes and more. It's the ultimate destination for finding the perfect pair of kicks.
Unrivaled selection of shoes and accessories.
Free shipping and hassle-free returns.
Customer reviews and detailed product information.
7. Sephora: Beauty at Your Fingertips 💄
Calling all beauty enthusiasts! Sephora's app is a beauty haven offering cosmetics, skincare, fragrances, and more. Explore top-notch brands and discover your new favorites.
Exclusive beauty offers and rewards.
Virtual try-on for makeup products.
Detailed product descriptions and customer reviews.
8. Best Buy: Tech Gadgets Galore 📱
For all the tech-savvy shoppers out there, Best Buy is your digital haven. From the latest smartphones to gaming consoles, you'll find an impressive range of electronics.
Expert advice and product recommendations.
Geek Squad support for technical assistance.
Weekly deals and special promotions.
9. ASOS: The Fashionista's Dream 🧥
ASOS is the ultimate fashion destination, offering a wide range of trendy clothing and accessories. Whether you're into street style or high fashion, ASOS has something for everyone.
Trendy clothing and accessories for all occasions.
Free shipping options available.
Extensive size range, including plus sizes.
10. Etsy: Handcrafted Treasures 🎨
If you're a fan of unique, handcrafted items, Etsy is your virtual marketplace. It's where artisans and crafters come to share their one-of-a-kind creations.
Vintage and handmade goods for a personal touch.
Customizable products for a truly unique shopping experience.
Support independent sellers and small businesses.
11. Macy's: Home and Beyond 🏡
Macy's app caters to those looking to spruce up their homes with style. From fashion and accessories to furniture and home decor, you'll find it all here.
Easy-to-navigate interface for a stress-free shopping experience.
Sale alerts and promotions for savings.
Extensive registry options for special occasions.
12. Nordstrom: Luxury Redefined 💎
Nordstrom is your gateway to luxury fashion and beauty. The app offers high-end products, designer brands, and personalized services.
Personal stylists and online consultations available.
Free shipping and easy returns.
Nordy Club rewards for loyal shoppers.
13. Newegg: The Techie's Paradise 🖥️
Newegg is the tech lover's paradise with a vast selection of electronics, gadgets, and computer components. If you're building a gaming rig or upgrading your workstation, this is the place to be.
User-friendly filters for easy product searches.
Daily deals and discounts for tech enthusiasts.
Customer reviews and ratings for informed decisions.
14. SHEIN: Fashion on a Budget 👗
SHEIN is your budget-friendly fashion haven. It's all about trendy and affordable clothing for the fashion-conscious shopper.
Constantly updated with new and stylish clothing.
Flash sales and discounts for extra savings.
Detailed sizing information for the perfect fit.
15. Wayfair: Furniture and Home Goods Galore 🛋️
Looking to spruce up your living space? Wayfair specializes in furniture, home decor, and everything you need to transform your house into a home.
Comprehensive product descriptions and customer reviews.
Sales and promotions for budget-friendly shopping.
Home design inspiration and ideas.
Frequently Asked Questions (FAQs)
Q1: Are these apps available for both Android and iOS?
Absolutely! Most of these online shopping apps are available for both Android and iOS devices, ensuring that everyone can enjoy the convenience of mobile shopping.
Q2: Are these apps safe for online transactions?
Yes, these apps prioritize the security of your personal and financial information. They often use encryption and other security measures to protect your data during online transactions.
Q3: Do these apps offer customer support in case I have questions or issues with my order?
Certainly! These apps typically provide customer support options, including live chat, email, or phone support, to assist you with any inquiries or concerns.
Q4: Are there any special deals or discounts available through these apps?
Yes, many of these apps offer exclusive in-app deals, promotions, and discounts. Keep an eye out for special offers to save even more while shopping online.
Q5: Can I return or exchange products purchased through these apps if I'm not satisfied with them?
Most of these apps have clear return and exchange policies that allow you to return or exchange products within a specified timeframe if you're not satisfied with your purchase.
Conclusion
The world of online shopping has come a long way, offering an incredible array of options that cater to the diverse needs and preferences of shoppers. Whether you're seeking tech gadgets, fashion trends, unique handcrafted items, or anything in between, these 15 online shopping apps have got you covered. With features like user-friendly interfaces, exclusive deals, secure transactions, and exceptional customer support, these apps are designed to make your shopping experience convenient, enjoyable, and cost-effective.
So, go ahead and start exploring these apps to discover a world of shopping at your fingertips. Download the ones that pique your interest, and get ready to redefine the way you shop, one tap at a time. Say goodbye to long queues and hello to the future of shopping with these fantastic online shopping apps! 📱🛍💫
Remember, shopping has never been this easy, and with these 15 online shopping apps, you're just a few taps away from retail therapy nirvana! Happy shopping! 🛒🌟
(Visited 22 times, 1 visits today)