In the chaotic dance of life, where time is a scarce commodity, finding a connection can be like searching for a needle in a haystack. But fear not! The digital Cupid has shot his arrow, and the world of dating apps is here to save the day! If you're on the quest for love, fun, or something in between, we've got you covered. Get ready to dive into the vibrant sea of the 20 best free dating apps that are changing the game.
Navigating the App Jungle
Dating in the modern world is like navigating a jungle, and these apps are your machete to cut through the vines of loneliness. Let's take a look at the crème de la crème of free dating apps, where sparks fly without burning a hole in your pocket.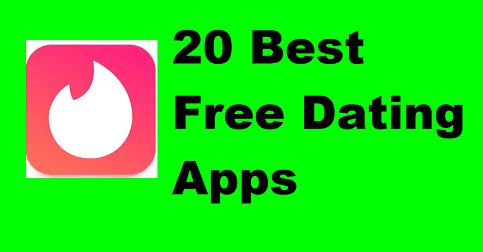 1. Tinder: The Trailblazer
Ah, Tinder – the pioneer of swipe-right romance! With its user-friendly interface and the infamous swipe mechanic, it's the OG of dating apps. Whether you're seeking a soulmate or just a partner in crime for the night, Tinder has your back.
2. Bumble: Where Women Make the First Move
Ladies, rejoice! Bumble flips the script by putting the power in your hands. It's a refreshing change where women make the first move. Empowerment meets love in this buzzing hive of possibilities.
3. OkCupid: The Quirky Matchmaker
If you're tired of superficial connections, OkCupid is your Cupid with a quirky twist. Dive into a world of personality quizzes and in-depth profiles, making it a haven for those who value substance over style.
4. Hinge: Designed to Be Deleted
Hinge believes in finding you the one so perfect that you'll want to delete the app. With its thoughtful prompts and a focus on getting to know the person beyond the profile picture, Hinge is a breath of fresh air in the dating app sphere.
5. Grindr: Tailored for the LGBTQ+ Community
Love knows no boundaries, and Grindr is here to prove it. Specifically designed for the LGBTQ+ community, it's more than an app; it's a platform for building connections and fostering inclusivity.
6. Plenty of Fish: Casting a Wide Net
As the name suggests, Plenty of Fish boasts an extensive user base. If you're casting a wide net in the dating pool, this app offers a sea of potential matches. Dive in, the water's fine!
7. Coffee Meets Bagel: Slow and Steady Wins the Race
For those tired of swiping through endless profiles, Coffee Meets Bagel takes a more measured approach. Receive a curated selection of matches every day at noon – quality over quantity, they say!
8. Happn: Turning Coincidences into Connections
Ever crossed paths with someone intriguing and wished for a second chance? Happn turns those near-misses into potential connections, making serendipity work in your favor.
9. POF Free Dating App: Unlimited Messaging
If unlimited messaging is your love language, the POF Free Dating App has got you covered. Break the ice without worrying about limitations and let the conversation flow freely.
10. Clover Dating App: Mixing Fun and Serious
Clover is the dating app for those who want a bit of everything. It seamlessly blends the fun of casual dating with the seriousness of finding a long-term relationship. Swipe, chat, and find your clover in the dating field.
11. Zoosk: Behavioral Matchmaking
Zoosk takes a scientific approach to love with its Behavioral Matchmaking technology. Learn from your interactions, and let the app evolve to find your perfect match based on your preferences.
12. Skout: Meet, Chat, Go Live
Skout goes beyond the usual swiping and chatting by offering a unique feature – going live! Show off your personality in real-time, making it a dynamic platform for meeting new people.
13. LOVOO: Your Radar for Love
Love is in the air, and LOVOO helps you locate it with its radar feature. Discover potential matches in your vicinity and let the magic unfold.
14. Tagged: Socialize and Date
Tagged is not just a dating app; it's a social platform where connections happen organically. Socialize, make friends, and let love find its way into your life.
15. MeetMe: Chat and Meet New People
MeetMe lives up to its name by providing a space to chat and meet new people. With a diverse user base, you never know who you might cross paths with on this exciting platform.
16. Tastebuds: Connecting Through Music
They say music is the universal language, and Tastebuds takes this to heart. Connect with people who share your musical taste, creating harmony in both love and music.
17. Mingle2: Free Online Dating
Mingle2 keeps it simple – free online dating without any frills. If you're looking for a straightforward approach to finding a match, Mingle2 might be your cup of tea.
18. JAUMO: Flirt for Free
Flirting is an art, and JAUMO lets you master it for free. With its no-nonsense approach to connecting people, this app is all about keeping it light and fun.
19. YoCutie: 100% Free Dating App
YoCutie believes that love shouldn't cost a thing. With a 100% free approach to dating, it's a sweet deal for those who want the full experience without reaching into their wallets.
20. WooPlus: Dating for Curvy People
WooPlus caters to the often-overlooked niche of plus-size dating. Embrace your curves and find someone who appreciates them on this inclusive platform.
FAQs: Decoding the Dating App Dilemmas
Q1: Are free dating apps worth it?
Absolutely! The 20 best free dating apps offer a plethora of options, from casual encounters to long-term relationships. Dive in, explore, and find what suits you best without burning a hole in your pocket.
Q2: Can you really find love on a dating app?
Without a doubt! Many success stories stem from people who met on dating apps. Love might be just a swipe away, so give it a shot!
Q3: How do I make my profile stand out?
Simple – be yourself! Add genuine photos, write a bio that reflects your personality, and don't be afraid to showcase your quirks. Authenticity is attractive!
Q4: Are there dating apps for specific preferences?
Absolutely! From LGBTQ+ inclusive apps like Grindr to music-focused platforms like Tastebuds, there's an app for every preference. Specify what you're looking for, and let the app do the matchmaking magic.
Q5: Any tips for a successful online conversation?
Keep it light, be genuine, and show interest in the other person. Ask questions, share anecdotes, and let the conversation flow naturally. Remember, the goal is to connect!
Conclusion: Love Awaits in the Digital Galaxy
In the vast galaxy of digital dating, the 20 best free dating apps are your trusty spaceships, ready to whisk you away to the stars of love and companionship. Whether you're a seasoned explorer or a newbie in the realm of online dating, these apps cater to all. So, fire up your phone, download your weapon of choice, and embark on the adventure of a lifetime. Love awaits – it's time to swipe, chat, and let the magic happen!
(Visited 5 times, 1 visits today)