Discover the crème de la crème of the Indian blogging scene! Dive into the world of the top 10 bloggers in India as we unveil their journeys, insights, and secrets to success.
Blogging has revolutionized the way we consume information, connect with others, and express ourselves. In India, this digital phenomenon has taken the nation by storm, with countless bloggers creating content on a wide array of topics. But who are the leading lights in this vibrant blogosphere? Who are the trailblazers shaping the industry and capturing the hearts of millions with their words?
In this article, we embark on a thrilling journey to introduce you to the "Top 10 Bloggers in India." We'll delve into their backgrounds, niches, and the magic ingredients that have propelled them to the zenith of the blogging realm. So, fasten your seatbelts, dear readers, and prepare to be inspired!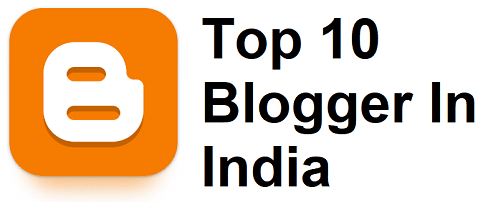 Top 10 Bloggers in India
1. Amit Agarwal – The Tech Whisperer
Background
Amit Agarwal is synonymous with tech blogging in India. He kick-started his blogging journey in 2004, at a time when the Indian blogosphere was in its infancy. With a background in computer science, Amit brought a unique blend of technical expertise and a knack for simplifying complex concepts.
Niche
Amit primarily focuses on tech, gadgets, and software. His blog, "Labnol," has become a go-to resource for tech enthusiasts seeking guidance on everything from smartphone hacks to coding tips.
Secret Sauce
Amit's success lies in his ability to make tech accessible to the masses. His lucid explanations, hands-on tutorials, and engaging writing style have made him a household name. Plus, he's not afraid to experiment with new formats, such as YouTube videos and podcasts.
2. Shradha Sharma – The Storytelling Maven
Background
Shradha Sharma is a storyteller extraordinaire who founded "YourStory" in 2008. Her journey started as a journalist, but she soon realized the power of storytelling in the startup ecosystem.
Niche
"YourStory" is a treasure trove of entrepreneurial tales, tech innovations, and inspiring success stories. Shradha's blog showcases the resilience of Indian entrepreneurs and their relentless pursuit of dreams.
Secret Sauce
Shradha's secret weapon is her knack for finding the human angle in business. She believes that every startup has a story, and her ability to extract those narratives has made "YourStory" a must-read for aspiring entrepreneurs.
3. Harsh Agrawal – The Blogging Guru
Background
Harsh Agrawal, a former engineer, ventured into the blogging world in 2008 with "ShoutMeLoud." His journey is a testament to the transformative power of blogging.
Niche
Harsh's blog is a haven for budding bloggers and digital marketers. He offers a plethora of tips on blogging, SEO, and monetization strategies, making it a one-stop destination for anyone looking to make a mark in the blogosphere.
Secret Sauce
Harsh's authenticity and willingness to share his own failures and successes resonate with his audience. He's not just a guru but a friend and mentor to his readers, guiding them through the complex world of blogging.
4. Malini Agarwal – The Entertainment Diva
Background
Malini Agarwal, fondly known as MissMalini, is the queen of Bollywood blogging. She started her journey in 2008 when blogging about celebrities was still a niche.
Niche
MissMalini.com is the go-to source for all things Bollywood and entertainment. From movie reviews to celebrity gossip, Malini's blog is the ultimate destination for pop culture enthusiasts.
Secret Sauce
Malini's infectious enthusiasm and unwavering dedication to her craft have propelled her to stardom. She's not just reporting on Bollywood; she's a part of it, hobnobbing with the stars and bringing exclusive content to her readers.
5. Srinivas Tamada – The Code Crusader
Background
Srinivas Tamada, a software engineer by profession, embarked on his blogging journey in 2009. His passion for coding and web development led him to create "9lessons.info."
Niche
Srinivas specializes in web development tutorials, covering a wide range of topics from JavaScript to PHP. His step-by-step guides and code snippets have earned him a loyal following among developers.
Secret Sauce
Srinivas's commitment to producing high-quality content consistently has set him apart. He understands the pain points of his audience and addresses them effectively, making complex coding concepts accessible to all.
6. Archana Doshi – The Culinary Maestro
Background
Archana Doshi, a self-taught chef and food enthusiast, ventured into blogging in 2007. Her culinary journey is a delightful fusion of tradition and innovation.
Niche
"Archana's Kitchen" is a treasure trove of mouthwatering recipes and culinary tips. Archana caters to the needs of both novices and experienced chefs, making her blog a gastronomic paradise.
Secret Sauce
Archana's authenticity shines through in her cooking. She doesn't just share recipes; she shares stories and emotions that resonate with her audience. Her passion for food is contagious, making her blog a food lover's heaven.
7. Varun Krishnan – The Travel Nomad
Background
Varun Krishnan's love for travel and photography culminated in the creation of "Ftrouble." His blogging journey began in 2014 when he decided to share his adventures with the world.
Niche
"Ftrouble" is a visual feast for travel enthusiasts. Varun's stunning photography and vivid storytelling transport readers to far-off lands, inspiring wanderlust in all who visit his blog.
Secret Sauce
Varun's ability to capture the essence of a place through his lens is awe-inspiring. His photos tell stories, and his words create a sense of wanderlust that keeps readers coming back for more.
8. Ankita Sinha – The Fashionista
Background
Ankita Sinha, a fashion aficionado, stepped into the world of fashion blogging in 2011. Her journey from a corporate job to the world of haute couture is nothing short of inspiring.
Niche
Ankita's blog, "Corallista," is a paradise for fashionistas. She offers makeup tutorials, fashion tips, and product reviews, making her blog a go-to destination for those looking to up their style game.
Secret Sauce
Ankita's attention to detail and her ability to connect with her readers on a personal level have made her a fashion influencer to reckon with. She doesn't just showcase fashion; she embodies it.
9. Rohan Chauhan – The Fitness Guru
Background
Rohan Chauhan, a fitness enthusiast and certified trainer, launched "The Fit Indian" in 2013. His journey is a testament to the transformative power of a healthy lifestyle.
Niche
"The Fit Indian" is a hub for fitness tips, workout routines, and nutritional advice. Rohan's blog is a lifeline for those on a journey to better health and well-being.
Secret Sauce
Rohan's empathy and understanding of the struggles people face on their fitness journeys set him apart. He doesn't just preach; he guides and supports his readers, making fitness accessible to all.
10. Ankur Agarwal – The Finance Wizard
Background
Ankur Agarwal, a finance professional, entered the blogging arena in 2015 with "MoneyExcel." His journey is a testament to the power of financial literacy.
Niche
"MoneyExcel" is a treasure trove of financial advice, investment tips, and money management strategies. Ankur's blog empowers readers to take control of their financial destinies.
Secret Sauce
Ankur's ability to simplify complex financial concepts and provide actionable advice has made him a financial guru for the masses. He's not just talking about money; he's helping people make it work for them.
FAQs:
Q1: How do these bloggers make money from their blogs?
A: These bloggers monetize their blogs through various channels, including advertising, sponsored content, affiliate marketing, and selling digital products or services.
Q2: Can I start a blog and become successful like them?
A: Absolutely! Success in blogging requires dedication, a unique niche, high-quality content, and persistence. It's a journey, but with passion and hard work, you can achieve it.
Q3: What's the key takeaway from these top bloggers?
A: The key takeaway is that authenticity, passion, and consistency are the pillars of successful blogging. Find your niche, connect with your audience, and keep producing valuable content.
Conclusion
The "Top 10 Bloggers in India" have not only left an indelible mark on the blogging landscape but have also inspired countless individuals to follow their dreams and passions. Their journeys are a testament to the power of dedication, authenticity, and the relentless pursuit of excellence.
As you delve into their blogs and stories, you'll discover a common thread—a burning passion for their chosen niches and an unwavering commitment to delivering value to their readers. Whether it's tech, entrepreneurship, entertainment, coding, food, travel, fashion, fitness, or finance, these bloggers have proven that success in blogging knows no bounds.
So, if you're contemplating starting your own blog or looking for inspiration to revamp your existing one, take a page from the books of these blogging titans. They are the living proof that in the world of blogging, with the right blend of passion and perseverance, you too can rise to the top and become one of the "Top Bloggers in India."
(Visited 14 times, 1 visits today)