Embark on a cinematic journey through the crème de la crème of Tamil cinema! Discover the top 10 Tamil movies that have left an indelible mark on the silver screen, showcasing unparalleled storytelling and exceptional performances.
Top 10 Tamil Movies | Watch Latest Tamil Films
Welcome, cinephiles, to a rollercoaster ride of emotions, drama, and sheer brilliance! In the vibrant realm of Tamil cinema, where every frame tells a compelling story, we're about to unravel the magic woven by the top 10 Tamil movies that stand as monuments of cinematic excellence. From heartwarming tales of love to spine-chilling thrillers, the world of Kollywood has produced gems that transcend boundaries.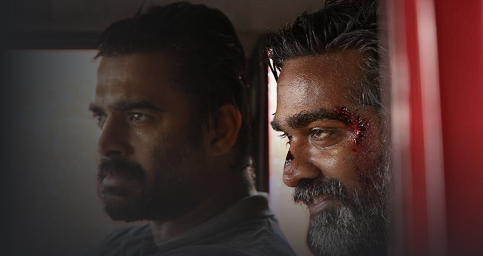 Are you ready to dive into the eclectic mix of storytelling, impeccable acting, and unforgettable soundtracks? Buckle up as we take you on a whirlwind tour of the top 10 Tamil movies that have etched their names in the annals of film history!
1. "Nayakan" – The Godfather of Tamil Cinema
Kickstarting our list with a classic that needs no introduction! "Nayakan," directed by Mani Ratnam, is the epitome of cinematic brilliance. With Kamal Haasan's riveting performance and an unforgettable storyline, this masterpiece is the cornerstone of Tamil cinema's golden era.
2. "Roja" – A Love Story Amidst Adversity
Mani Ratnam strikes again with "Roja," a film that not only captivates with its love story but also delves into the socio-political landscape. A.R. Rahman's soul-stirring music elevates the narrative, making it an evergreen favorite.
3. "Super Deluxe" – A Tapestry of Unconventional Narratives
Venturing into the contemporary, "Super Deluxe" is a mind-bending ride through diverse storylines intricately woven together. With a stellar cast, gripping screenplay, and unexpected twists, this film is a testament to Tamil cinema's evolving narrative.
4. "Kaithi" – Edge-of-the-Seat Action
For adrenaline junkies, "Kaithi" is a cinematic spectacle! Directed by Lokesh Kanagaraj, this action-packed thriller featuring Karthi is a rollercoaster of intensity, with a plot that keeps you guessing till the very end.
5. "96" – A Melancholic Love Symphony
Bringing tears and smiles in equal measure, "96" is a nostalgic journey through unrequited love. Vijay Sethupathi and Trisha deliver heart-wrenching performances that linger long after the credits roll.
6. "Aruvi" – A Bold and Unconventional Tale
Breaking stereotypes and pushing boundaries, "Aruvi" is a cinematic marvel that challenges societal norms. With Aditi Balan's powerful portrayal, this film is a bold statement on individuality and resilience.
7. "Vada Chennai" – The Raw Grit of Realism
Enter the gritty world of North Chennai with "Vada Chennai." Directed by Vetri Maaran, this crime drama is a mosaic of characters and events, showcasing the raw and unfiltered reality of the underbelly.
8. "Peranbu" – A Poignant Exploration of Parenthood
Mammootty starrer "Peranbu" is a soul-stirring exploration of the complexities of parenthood. Touching upon societal taboos with grace, this film is a masterclass in storytelling and empathy.
9. "Jigarthanda" – A Delicious Blend of Genres
In the realm of unique narratives, "Jigarthanda" stands tall. Karthik Subbaraj's directorial brilliance combines elements of comedy, drama, and suspense, making it a delicious cinematic treat.
10. "Vikram Vedha" – A Battle of Wits
"Vikram Vedha" is a gripping cat-and-mouse game between two power-packed performances – Madhavan and Vijay Sethupathi. The film's screenplay and sharp dialogues keep you hooked till the end.
FAQs: Unraveling the Mysteries
Curious minds might have a few burning questions, so let's address them!
Q1: Are these movies available with English subtitles?
Absolutely! Many of these films have garnered international acclaim, leading to the availability of English subtitles for a global audience.
Q2: Why is Tamil cinema gaining international recognition?
Tamil cinema's success on the global stage can be attributed to its rich storytelling, versatile performances, and a willingness to explore diverse themes that resonate universally.
Q3: Any upcoming Tamil movies that could join this illustrious list?
With the dynamic nature of the industry, several promising films are on the horizon. Keep an eye out for releases from visionary directors and emerging talents.
Conclusion:
As we bid adieu to this cinematic odyssey, one thing is abundantly clear – Tamil cinema is a treasure trove of storytelling prowess and artistic brilliance. The top 10 Tamil movies we've explored are not just films; they are experiences that linger, leaving an indelible mark on our hearts and minds.
Whether you're a seasoned cinephile or a casual viewer, these movies offer a glimpse into the diverse and enchanting world of Tamil cinema. So, grab some popcorn, immerse yourself in these masterpieces, and witness the magic that has earned them a well-deserved spot among the top 10 Tamil movies of all time!
(Visited 10 times, 1 visits today)